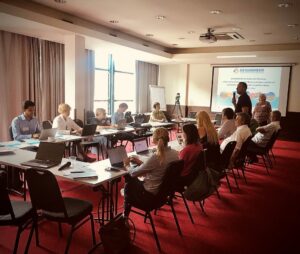 On the 15th of June, our partners from BEF Latvia organised the third NEXOGENESIS stakeholder workshop on "Water-Energy-Food-Ecosystem (WEFE) Governance, Policy and stakeholder Engagement in the Lielupe River Basin" in Vilnius, Lithuania.
The event aimed to introduce findings from the governance assessment in Latvia and Lithuania, present and validate policy packages, discuss stakeholder engagement considerations, and promote networking and exchange of information on ongoing activities in the Lielupe River Basin. All these subjects were successfully discussed among both Latvian and Lithuanian stakeholders who took part in the workshop.
Stakeholders validated the selection of policy instruments in all WEFE sectors, made proposals for additional policy instruments, and indicated the priority instruments having the largest impact on WEFE sectors in the Lielupe River basin in Latvia and Lithuania that should be included for further analyses of the modeling and SLNAE tool. These results are considered an essential part of the successful project's future development.
For more information: