Description: The Lower Danube case study is focused on the 16,759 km2 Jiu River Basin in Romania, a sub-basin of the Danube river, aiming to explore interconnection and replicability crossborder in Serbia and Bulgaria. The Jiu river flows from the Romanian Carpathian Mountains southwards through several counties before it discharges into the Danube at Zaval, the Romanian-Bulgarian border near the Bulgarian city of Oryahovo. The basin is mainly characterised by arable land (48%), forest (30%) and pastures (9%). Population in the upstream mountain areas of the basin rely on the coal mining industry with lignite-based electricity and heat generation, while the downstream areas are characterized by agricultural activities that depend on water supplies for irrigation and hydropower production. The Lower Danube wetland ecosystem, which includes several EU Natura 2000 sites, is highly sensitive and has already lost nearly 80% of its surface area in the last century due to river dredging, land reclamation and flood control measures. Anthropogenic interventions (e.g. dams) along the Danube stimulated erosion and negatively affected the riverbed, while floods and drought events continue to impact the region.
Main nexus issues: Challenges result from competing interests regarding water availability, in terms of quantity, quality and associated risks management.
Hydropower production requires a precise amount of water to maintain electricity production even during dry periods, which directly comptes with the irrigation water demand in the agricultural sector;
Agricultural activity in the basin further affects the groundwater availability, thus jeopardizing the main water supply for the 1.5 million inhabitants of the region;
The energy production both in the northern upstream (to include transition towards alternative energy sources) and in southern downstream regions (hydropower) impact the water resources and surrounding environment;
Floodpain restoration projects are already initiated in the region demonstrating nature-based approach to climate change adaptation and socio-economic co-benefits;
Further steps are currently designed by the river management plans aimed at promoting ecological connectivity for enhanced biodiversity and ecosystem services.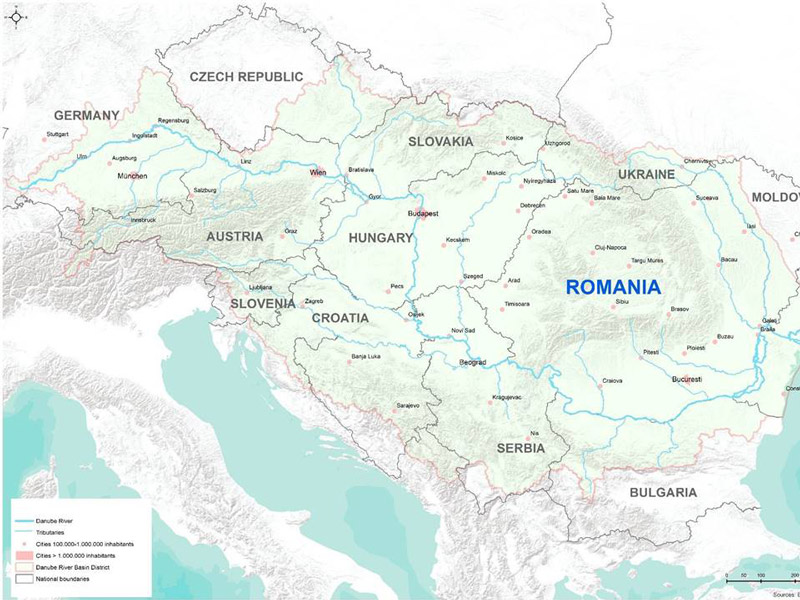 Source: National Authority Romanian Waters
NEXOGENESIS activities in the case study: The activities in the case study aim to actively involve stakeholders and facilitate their engagement in co-creation and validation of a tailored NEXUS WEFE approach and use of the SLNAE for improved policy-making. The project results will be promoted as trustful and solid reference at national level for substantiating actions and measures towards sustainable water resources management, supporting the strategic objective of updating the assessment of water use requirements at the level of river basins and improved evaluation of the vulnerabilities of current water systems. Furthermore the case study targets dissemination cross border Serbia and Bulgaria to support maximizing project impact within the Lower Danube region.