NEXOGENESIS partners from the University of Thessaly (UTH), KWR Water research Institute (KWR) and G.A.C. Group (G.A.C.) participated at the Ninth International Conference on Environmental Management, Engineering, Planning and Economics (CEMEPE 2022) and SECOTOX Conference from the 6th to 9th June 2022 in Mykonos, Greece.
This was the occasion for project partners to meet with high level WEFE Nexus experts and to participate in the NexusNet Cost Action core groups meetings in order to create synergies between the two projects, for instance. how to build a community around the WEFE Nexus and to include NEXOGENESIS and other related projects.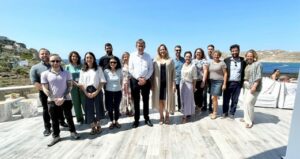 This event was also the occasion to meet in person with experts of the WEFE nexus related subjects internal and external to the NEXOGENESIS project.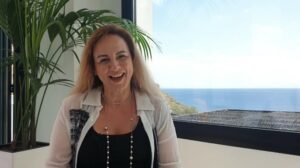 Lisa Pourcher and Nina Olivier, from G.A.C. Group took this occasion to interview Prof. Chrysi Laspidou, from the University of Thessaly (UTH) to provide some explanations of her team's work on the Nexus System Thinking and Integration.
"We are modelling the interlinkages between the water, energy, food and ecosystems. […] We produce a modelling on a systemic level basically blending the biophysical with the socio-economic creating these socio-ecological systems that includes society, science, biophysics and the policies. So the policies come in and form the drivers and gives the incentives to the people to adjust their behaviour to be more nexus compliant."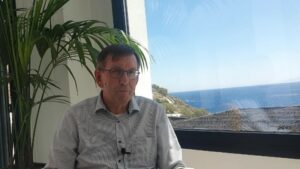 Dr. Floor Brouwer, Researcher on Green Economy and Land use from Wageningen Economic Research in the Netherlands and as an expert on the WEFE nexus was also interviewed and gave some valuable insights on the WEFE Nexus, its history and importance.
"Around 2011, […] the world became aware that the interlinkages and proper decisions need to be made taking into account the interlinkages between Water, Energy and Food. […] After some time, the ecosystems were added to the equation of water, energy and food nexus and that was called the water, energy, food and ecosystems nexus."
"To understand the interlinkages is important for research, for science and for policy making. […] The nexus is already helpful to understand the trade-offs but the real added value is to see where are the synergies, where could conditions that are moving in the wrong direction – a direction that society does not prefer or that policy does not want – can be reversed into a better condition."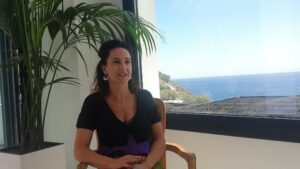 Finally, they met and interviewed Dr. Serena Caucci, Associate Programme Officer at the United Nations University – Institute for Integrated Management of Material Fluxes and of Resources in Dresden, Germany, who explained the importance of stakeholder engagement in European collaborative projects and most importantly threating about the WEFE Nexus.
"We look for synergies on how to optimise the work of stakeholder engagement within European projects. So, we are planning to coordinate case studies and successful case studies and look into how stakeholders have been engaged in co-participatory work or solution oriented decisions."
Stay tuned ! Interviews will be released soon !