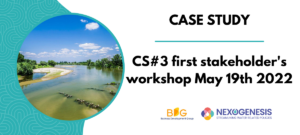 SAVE THE DATE – Business Development Group, leader of the Lower Danube case study will hold its first stakeholders' workshop next May 19th, 2022 in the Jiu River Basin.
The meeting will bring together policymakers, market players and representatives of the civil society involved in WEFE and sustainability sectors, getting them closer to the project objectives and understanding of WEFE nexus interlinkages in the local context.
The meeting will also initiate a dialogue platform to support improved awareness and shared vision on nexus problems and solutions, facilitating stakeholders' engagement in biophysical modelling and SLNAE development.
The meeting agenda is available below.
Learn more about Case Study #3 and stay tuned for more information and event outcomes.