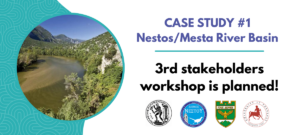 Next March 28th and 29th, 2023, the Municipality of Nestos will organise its 3rd stakeholders' workshop in Chrysoupoli Kavala, Greece. The Municipality of Gotse Delchev will also participate actively in the workshop and stakeholders from both Bulgaria and Greece will be gathered in order to discuss the future of their common river. The National Technical University Athens (NTUA) and the University of Thessaly (UTH) will use the opportunity of this workshop to present some preliminary analysis results of the work conducted during the first 18 months of the project in collaboration with consortium partners.
On the second day of the workshop,  March 29th, a field trip to the Nestos / Mesta river basin is planned. The local project team will be able to have a short tour along the river from both the Greek and Bulgarian sides as long as a visit of Gotse Delchev.
Stay tuned and learn more about the case study here.